Tank Blanketing (Blanket Gas Regulator Valve)
Tank Blanketing In a nutshell
What?
A tank blanket gas regulator (BGR) controls the flow of a gas, typically nitrogen, into a vessel or line. The role of the valve is to maintain the pressure of the blanket by opening when blanket pressure drops below a set point and closing when it reaches the desired level.
Why?
Because by blanketing a product with an inert gas like nitrogen, you protect it from contamination with air. This is important with fine chemicals and in marine environments where ingress of air could also mean ingress of salt and moisture. Blanketing with an inert gas is also safer than having a vapour space filled with a volatile vapour. Additionally, when a tank with a blanket vents to atmosphere, it is venting that blanket, not the valuable/dangerous/odorous/volatile/noxious gas below the blanket.
Where?
Fine Chemical Manufacturers, Sewage Works, Fuel Storage Sites and anywhere where the product will be affected by ingress of atmospheric air or where the product cannot be vent to atmosphere.
At Assentech, we choose to supply
BGRs 
from Groth Corporation, not only because they are of the highest quality but because they are a simple design with a few moving parts as possible which makes for
 long lasting component
.
Model 300 Blanket Gas Regulator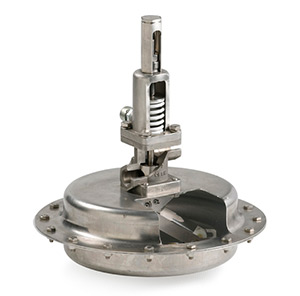 Features
Simple operation, spring-loaded "push-push" balanced piston design
Bubble-tight shut-off
Variable orifice, field-adjustable flow capacity
Single-stage regulator
Set pressure is field adjustable
Modulating opening
Minimal lockup and droop
Sizes
½" or 1"
Body Material
316 SS
Pressure Setting
0.5 InWC to 15 psig
Inlet/Outlet Options
1/2″ FNPT
 
1/2" 150# ANSI RF Flange
 
1" 150# ANSI RF Flange on 1/2" Valve
 
DN 15 (1/2") PN 10/16 DIN RF Flange
 
DN 25 (1") PN 10/16 DIN RF on 1/2" Valve
 
1/2″ Sanitary Connections
 
1/2″ Quick Couplings
 
1" FNPT
 
1″ 150# ANSI RF Flange
 
2" 150# ANSI RF Flange on 1" Valve
 
DN 25 (1") PN 10/16 DIN RF Flange
 
DN 50 (2") PN 10/16 DIN RF Flange on 1" Valve
 
1″ Sanitary Connections
Seal Material Options
Buna-N
 
CHEMRAZ
 
EPDM
 
Viton
 
Specials available upon request
Features

Simple operation, spring-loaded "push-push" balanced piston design

Variable orifice, field-adjustable flow capacity
Single stage regulator

Set pressure is field adjustable
Related pressure and/or vacuum safety relief and venting equipment