Loading Rack Electronics-Overfill Prevention and Ground Verification Controller
Tankers can gather electro-static charge whilst driving, loading and unloading, especially in dry or salty environments. Correct electrostatic discharging of the tanker significantly reduces the risks of electrostatic sparks and consecutive explosions.
OPW Civacon manufactures a number of products designed to mitigate against the static charge, as well as offering overfill protection in the case of the 8800E.
Civacon Overfill Prevention and Ground Verification Controller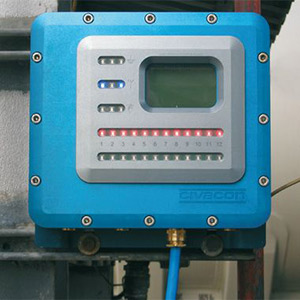 The OPW CIVACON 8800E Overfill Prevention and Ground Verification Controller is designed for API bottom loading applications on single and multi-compartment tank trucks at fuel terminals, refineries and chemical plants.
The 8800E performs 2 basic functions;
In the event an overfill situation, the 8800E output relay sends a signal to a Terminal Automation System, control valve or pump to shut-down the loading operation.
Should proper grounding not be maintained a non-permissive signal, generated by the 8800E, interrupts the loading process immediately. The 8800E is complaint with both EN13922 and VOC directive 94/63/EC.
There are a number of manufacturers whose rack monitor also perform these basic functions, the Civacon 8800E however, has a host of additional enhanced features which make it the most technologically advanced fail-safe rack monitor available to the industry today.
Additional Features and Benefits
Automatic recognition and switching between OPTIC and THERMISTOR sensor technology
Supports up to 8 two-wire and 12 five-wire sensors
Self-checking ground verification incorporated in cable & plug assembly
Two separate output relays for Overfill and Ground Verification
Fail-Safe redundant output relays
LED status indicator lights
Multiple language LC Display
Enhanced detailed diagnostic readout on graphic display
SD RAM socket
Real-time clock
Vehicle data communication prepared
Sophisticated wireless multiple-function & by-pass key
Dead-man switch prepared
Low temperature useable in extreme environmental conditions as low as -45ºC
Conforms to EN13922 and VOC directive 94/63/EC
Product Specification
Input power supply 110-240 Vac 30VA 50/60Hz
Output relays 250V ac/dc 5AT
Communication RS485/422 data communication port
Operating temperature -45ºC to +70 ºC
Response time < 400ms
Approvals ATEX II 2(1)G Ex d ia [ia] IIB T4
Enclosure IP65 acc. to IEC 60529
Weight 12 kg
Dimensions 310x280x80 mm
GME4 Clamp-on Electronic Ground Verification Controller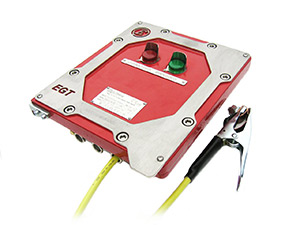 The GME4 provides automatic earthing of tank trucks and railcars to the ground to ensure safe loading and offloading operations at the site. It is designed for discharging of electrostatic charge during both the loading and offloading of flammable liquids and is used across a broad range of chemical, pharmaceutical and fuel terminal applications. The method of discharging the GME4 uses is by grounding.
Tankers can get electro-statically charged during driving and/or (un)loading, especially under dry or silty environmental conditions. Proper electrostatic discharging of the tanker significantly reduces the risks of electrostatic sparks and consecutive explosions.
The GME4 performs 2 basic functions;
Though the clamp which is connected to the truck or car, and the associated cable and electronics, the GME4 discharges the electrostatic charge.
The GME4 indicates the grounding status using lights on the front panel and by relay contacts. The contacts will block the loading when grounding is not correct, i.e. if the clamp is attached to the loading gantry rather than the truck. A second output signal can be used for external alarm (horn or lights).
A non-conductive measuring principle is used to verify grounding and therefore it is resistant against incorrect usage. For instance, if the clamp is short-circuited (e.g. connected directly to steel construction) this is evaluated by the GME4 as INCORRECT grounding and NO permissive signal will be generated.
Features and Benefits
Continuous grounding & testing
Monitors 3 states: Tanker connected correctly, connection to earth point correct, clamp not connected
Non conductive measuring principle
Relay output with double contact
Intensive (Red/Green) status indicator lights
Exd protection
Robust construction
Easy installation
No service required
Cable (10 meter) and clamp included
2 clamp version available
Product Specifications – GME 4
Input power supply 230 Vac, 50Hz
Power consumption 10 VA
Output Relays 230V / 3A (2x)
Protection IP65 II2G Ex d [ib] IIB T4
Operating temperature -50ºC to +60ºC (see c above)
Approvals ATEX
Weight 6 kg
We supply a broad range of loading equipment and complete loading platforms, gantries and racks.